Finding Chinese Corporate "Diamonds" Amidst The "Rough" - Value Partners
Editorial Staff, 26 March 2020
There is value to be found among Chinese companies in the midst of the crisis that has gripped that country and the rest of the world, an investment management firm argues.
The following commentary on how investors should view Chinese and other Asian equity markets comes from YU Xiaobo, investment director and head of China business for Value Partners. This news service has been careful not to bombard to readers with excessive amounts of COVID-19 content. Where the editorial team think that a commentary adds new value and incisive insights, we will be happy to share these views.
The Chinese term for crisis ?? is composed of two characters, the first character means danger and the second character means opportunity which lends implications of a turning point. In the same way, even as investors have been spooked by the recent market volatility, they can look to companies with competitive business practices that can create better cash flow and thrive in challenging times.

How do you assess the current epidemic and the volatility in markets?
Certainly, the virus has made an impact. While China has proved effective measures to contain the coronavirus, cases outside China have only just begun and, as of March, were worsening. In addition to short term disruptions, a long-term impact may be wider reaching – this means fundamentally altering the global industrial chain and the evolution of many trends to come.

This virus is only one of the many factors behind volatility in the markets. As professional investors, we encounter a multitude of factors that can change the course of markets so we seek certainty amid the uncertainty in the long run. For example, although the short-term impact of the epidemic has been colossal, there are still scientific ways to prevent and control it, which includes the results of follow-up vaccines and drug development. Taking into account that only three months have passed since the start of this new virus, it may be possible to prevent and find cures further down the road with medical research.

What we do is to find value in the market. The root of value lies in the ability of enterprises to create cash flow so that we focus on companies that can restore certainty and can effect long-term industry disruption, in spite of challenges. We see an opportunity to pick these out amid price fluctuations.

From a value investing standpoint, what opportunities do you favour in the Greater China region at this time?
Firstly, Hong Kong stocks stand out within the Greater China region. This is partly because many high quality Chinese companies have chosen to list their shares in Hong Kong. Much disparity exists between their price levels and intrinsic value; the deviation can be attributed to particularities of the Hong Kong market as well as factors surrounding global market volatility. This is where strategic investment opportunities lie.

While ownership of Hong Kong stocks are foreign (foreigners hold 50 per cent, mainland capital takes 30 per cent, and Hong Kong capital owns 20 per cent), the fundamentals of its listed companies are heavily dependent on China's economy. In particular, in recent years, more and more high-quality Chinese companies have chosen Hong Kong as a listing destination. At present, over 70 of them are Chinese companies, many of them are engaged in new economy industries, such as internet, healthcare, science and technology, education, and so on.

Institutional investors comprise the largest chunk of investors in Hong Kong, including sovereign funds and other large institutions which take long-term positions. Hence they do not trade frequently so turnover and liquidity remain low. For reference, Hong Kong stocks have an average annual turnover rate of about 60 per cent, compared with 200 per cent in the European and American markets, and 600 per cent on the China A-share market.

In the event of a liquidity crisis in the international financial markets, outflows of foreign capital flows follow with sharp drops in the market. However, such capital flows are now driven more by sentiment and have less to do with the underlying fundamentals of China's economy. Basically, a value opportunity exists currently with the deviation between stock prices and the intrinsic value of companies.

How do current levels of valuation factor into your assessment?
Overall, valuations of Hong Kong stocks are more than one standard deviation below their historical averages in term of price-to-earnings (PE) ratio and the price-to-book (PB) ratios. We need to remember that valuations have always rebounded after a crisis. We saw that after the 2008 global financial crisis and the 2011 European debt crisis. Taking global markets as a comparison, Hong Kong stocks are at the bottom and investors can take this opportunity to strategically increase their allocation.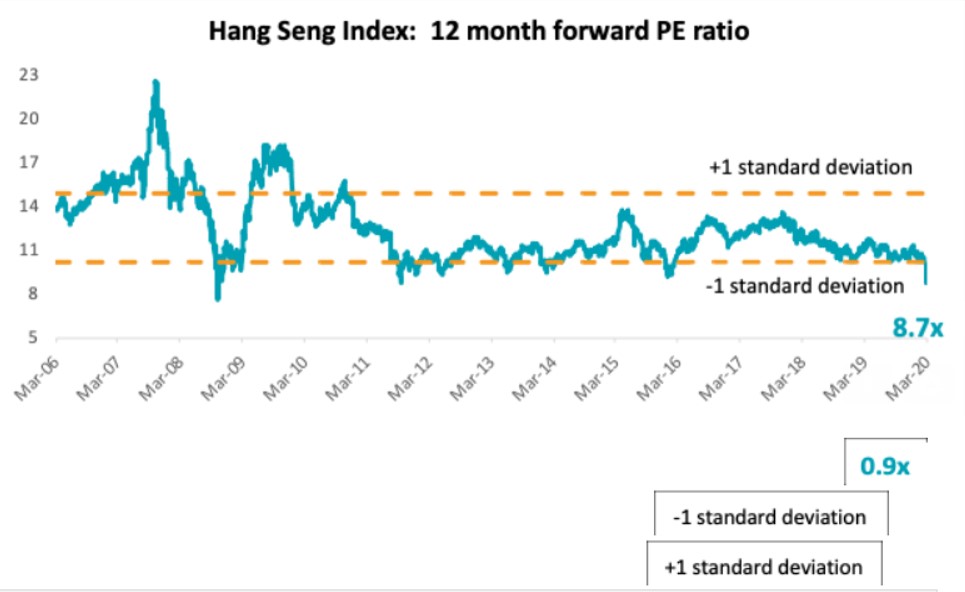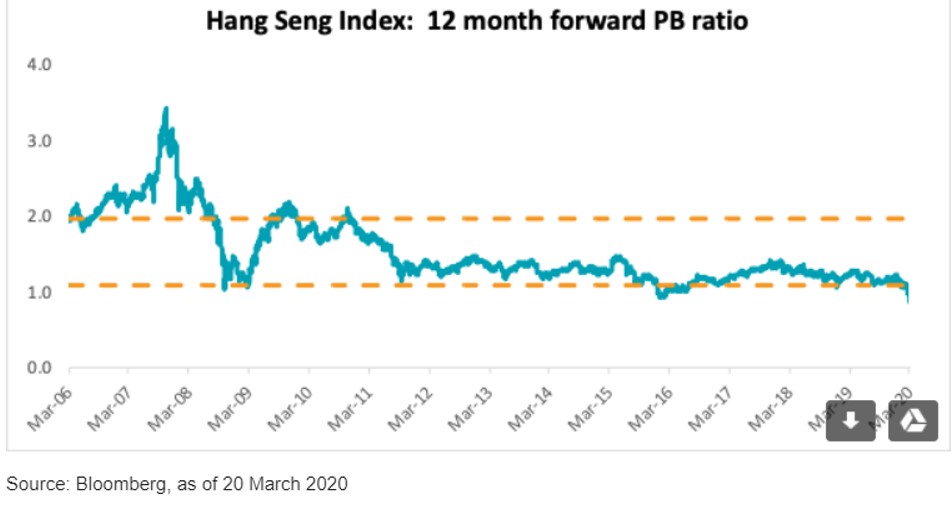 4. How long can Hong Kong stocks retain its "offshore qualities" and stay cheap?
Here is what I think about this issue. First and foremost, it is insufficient reason to buy a stock just because it is are cheap, which is to say it is not simply about price levels. If fundamentals are getting worse, it would certainly be a trap. However, fundamentals of China's economy offer much potential, a large consumer market with a population of 1.4 billion, and the social resilience shown in the face of this epidemic has given us confidence that a recovery is quick and that bodes well for corporate profits after the short-term impact wears off.