Technology
New Research: A Wake-Up Call On Client Communications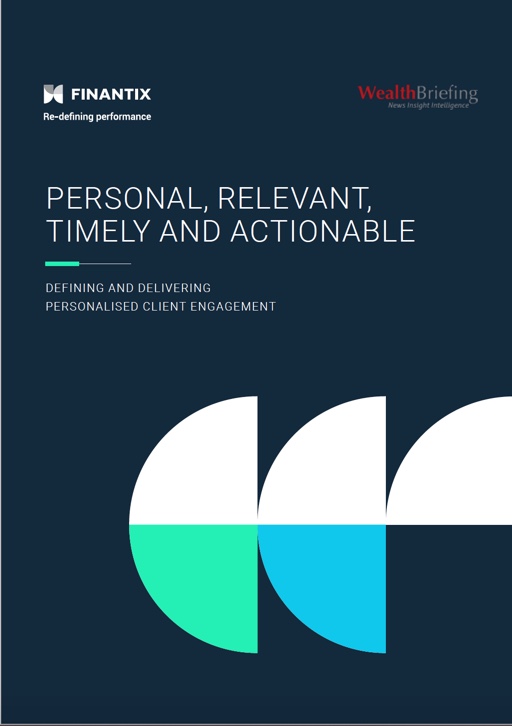 This is an exploration of all the ways in which the sector can utilise new technologies to deliver a high-touch client experience while also allowing advisors to scale up.
This news service today launches the second in its series of research papers produced in partnership with Finantix – and its themes couldn't be more relevant to the challenges currently facing the industry.
Personal, Relevant, Timely and Actionable: Defining and Delivering Personalised Client Engagement, is a wide-ranging exploration of all the ways in which the sector can utilise new technologies to deliver a high-touch client experience while also allowing advisors to scale up. And, as it sets out best practices, it also highlights areas of weakness that seem to be very prevalent across the industry.
Based on interviews with senior executives at leading wealth managers, this report points to a serious lack of customisation in investment commentaries. Abundant research has shown that clients very often see these communications as generic and irrelevant, and our new paper shows that over half of respondents rating their own firm's personalisation efforts here rate them as average to poor.
The engagement gains to be had by customising investment commentaries - and other communications - to take account of clients' individual situations, investment tastes, risk-profiles and so on hardly need to be stated and were already shaping up to be a crucial differentiator during "normal service". Now that the COVID-19 epidemic has thrown markets into freefall while simultaneously making in-person meetings an impossibility, never has this topic been more important.
Greater fallout than the GFC?
Following the Global Financial Crisis, a lack of responsiveness emerged as a top source of client dissatisfaction and many a relationship was wrecked on these rocks. Now, with clients' expectations of timely, relevant and personalised communications standing so much higher, it is easy to imagine an even greater fallout for those firms which aren't proactive in keeping investors well informed and as comforted as possible.
It is also easy to imagine advisors actually being under very much greater strain during the coronavirus crisis than during the GFC, and not just because of the sheer magnitude of potential losses investors are having to contemplate. Pressures on profitability mean that in recent years many advisors have been tasked with handling far more clients than previously and the starring role new technologies can play in helping relationship managers to scale up while still maintaining excellent service standards has become one of biggest themes in "wealthtech". Yet we may now be about to see a stark division emerge between the "haves" and "have nots" when it comes to this kind of technology. Solutions do certainly exist that make it possible to automate highly personalised client communications across multiple channels. Their actual adoption across the industry, however, seems uneven to say the least.
So much depends on client data – not merely "having" it, but a firm's ability to transmute the abundant information they (should) have on clients' preferences, profiles and histories into actionable insight. That this study found most wealth managers to be very far from where they would like to be on CRM technology will mean that many are struggling here.
As our paper notes, wealth managers must always "own" bad news and put a lot of effort into signalling their understanding of and empathy with their clients if their loyalty is to be preserved. At a time when in-person meetings are impossible and time for individual telephone conversations is likely to be highly constrained, this really is the chance for digital communications strategies to shine.
Personal, Relevant, Timely and Actionable: Defining and Delivering Truly Engaging Client Engagement offers wealth managers the chance to compare their digital capabilities with their peers, and to benefit from cutting-edge insights from a range of client experience, marketing and technology experts. It also sets out how firms can rapidly get up to speed, no matter what their current technological set-up.

Download your free copy now