DBS Accelerates Digital Banking Use, More Features Planned
Tom Burroughes, Group Editor , 22 September 2020
The Singapore-based bank set out in numbers the extent to which the pandemic and other forces have accelerated the use of its digital offerings. More features are planned in coming months.
DBS is "doubling down" on what it calls its intelligent banking services across its digital channels, saying it will chalk up a run of "industry firsts" by the first quarter of 2021.
New features will include suggestions on equity stocks tailored to a wealth customer's investment pattern, and prompts that speed up everyday banking functions so that customers can perform their transactions with a single tap or swipe on their mobile phones, such as paying their monthly bills in one go.
The Singapore-based banking group said that COVID-19 has accelerated clients' use of digital services, a trend noted across the world's wealth management industry. The move to working from home, the convenience of accessing bank services on the hoof, and the desire to access data outside conventional working hours, have helped drive the trend. Even years before the pandemic, Singapore was something of a trailblazer in mobile banking. For example, when Credit Suisse unveiled its mobile private banking platform in 2015, it chose the Asian city-state, not Switzerland, as its first launch venue.
Data
Between January and May this year, transactions on the retail digital platform DBS digibank skyrocketed by 220 per cent from the same period last year.
Transactions on DBS' wealth digital platform DBS iWealth jumped by 198 per cent year-on-year, DBS said in a statement yesterday.
The lender said the path of rising digital use continued even after Singapore eased its "circuit breaker" restrictions to deal with the virus. Between June and August 2020, customer sign-ups for the DBS digibank mobile app rose by 216 per cent from a year earlier. The bank's digital banking customers hit a record high of 3.5 million.
The number of investment transactions made via DBS iWealth's mobile banking app tripled. From 2017 to 2019, the bank saw an average of 5 per cent year-on-year decrease in cash volumes being handled, a reduction of some S$5 billion a year. For the period of June to August 2020 alone, cash volumes plunged by an unprecedented 34 per cent compared with the same period last year – a reduction of around S$7 billion in three months.
"DBS' digitalisation journey, which began more than six years ago, has always been centred around our customers," Sim S Lim, group head of consumer banking and wealth management at DBS Bank, said.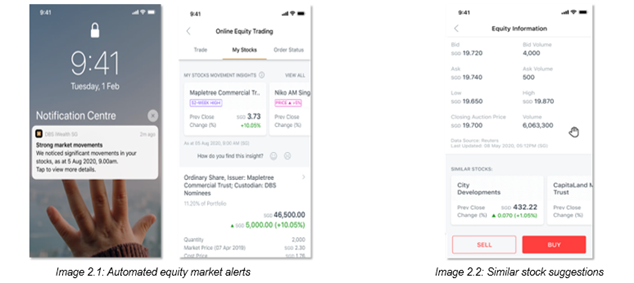 Source: DBS.