Awards
Family Office Advisory, Sustainability Proves Winning Mix For Maitri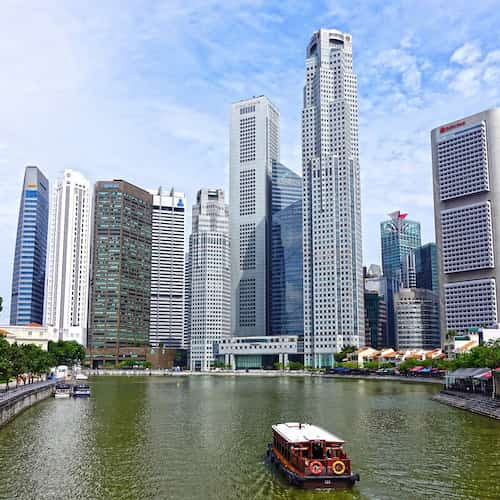 We talk to Maitri Asset Management about the firm's work in the fields of family office advisory and sustainability.
A strong focus on family office services and a stress on sustainability as a company as well as on its portfolios will be on the menu for Maitri Asset Management in the years ahead, its CEO told WealthBriefingAsia.
The rapidly rising wealth of Asia's high net worth individuals and the inter-generational wealth transfers slated to go ahead in the region create big opportunities for organisations such as Maitri, Manish Tibrewal, CEO, told this news service.
"We have a very sharp focus on sustainability and we are very passionate about sustainability."
"What distinguishes us from our peers is the combination of our position as a leading investment and wealth management firm, our world-class ESG offering, and our family office advisory capabilities. This means we are able to provide various institutions and HNW individuals and family offices with holistic and sustainable solutions." he said. "The key to success in any organisation is the people. Our employees are key stakeholders in our business. They see a sense of purpose in what they are doing and the good they do in their work."
"It [the organisation] is three-quarters owned by the family…Employees do have a pretty robust incentive structure," Tibrewal continued.
That such a business appears to be thriving is testimony to how the approach of sustainable investing has gone from being a nice-to-have option to an increasingly mainstream feature of the world's wealth management ecosphere. As WealthBriefingAsia knows, more and more firms, large and small, are making these ideas central to how they show their face to the world.
Maitri Asset Management was founded as the Tolaram Group family office in November 2015 and has since grown to become a licensed fund manager focused on active responsible investment management. A globally connected private investment vehicle whose headquarters are in Singapore, Maitri Asset Management offers outside investors access to some of the world's premier investment opportunities.
The firm, which is led by a strong set of values and responsible investing principles with a focus on ESG, aims to preserve and grow the wealth of its clients for generations to come. Maitri Asset Management is a signatory to the United Nations-supported Principles for Responsible Investment (UNPRI), with 25 per cent of earnings going to the Ishk Tolaram Foundation which provides access to quality education, healthcare and skills training to underserved individuals in Indonesia, Nigeria, Singapore and Estonia.
Responsible approach
The firm said that one of its achievements in 2020 was bringing the proprietary two-tier Responsible Investment Approach to life, guided by the UNPRI and the Singapore Stewardship Principles – Maitri is a signatory to both. This has bolstered Maitri's efforts to apply an ESG lens to all investment opportunities, and ensure a robust approach to assessing risk to deliver sustainable returns in changing times.
It comprises a negative screen that is applied to Maitri's entire portfolio to preclude investing in sectors that are not aligned with Maitri's raison d'être as a responsible investment manager. It also entails a proprietary ESG integration investment framework applied specifically on their sustainable funds.
The ESG integration investment framework is a form of enhanced risk management and identification of potential opportunities for the sustainable funds, and comprises additional screening for coal exclusion.
The fine print
Among the details of how Maitri goes about sustainable investing, it explained the following approach: in addition to applying Maitri's six negative screens to its Sustainable Funds, it also excludes coal companies where more than 30 per cent of their revenue (or other suitable financial indicator) is generated from either the extraction of thermal coal, and/or the use of thermal coal in power production, or they have disclosed plans for new coal-fired power plants.
If Maitri determines that there are (i) insufficient ESG disclosures available from a potential investment, or (ii) a significant controversial event within an investee of an existing investment, the firm will engage with the investee to understand its management approach to addressing these aspects. Maitri employs a holistic approach to engaging companies, either through direct company engagement or investor groups. The firm also has an external managers' engagement policy.
Asked about challenges the firm has overcome, Tibrewal said the relative novelty of ESG ideas in Asia meant that Maitri Asset Management had to tackle the need for expertise and robust data.
"We have made very significant progress on that," he said.
Asked specifically about whether governance - the "G" in ESG was not getting sufficient attention globally, Tibrewal said that governance had been an issue even before the ESG term became common. Governance is changing, however, with more focus on issues such as gender and ethnic diversity and the need for independent directors.
What of the future?
"We continue to focus on the sustainability and family offices spaces. We see a lot of traction in Asia. We anticipate a massive wealth transformation in the coming decade," Tibrewal said, referring to how at present so much Asian wealth is held by first-generation wealth creators. "It gives us a launchpad in the next 12 months to capture that market."
Asked about receiving this WBA award, he replied: "It is a great motivator for me and the entire team that we are being recognised by such a reputable and credible house like WealthBriefingAsia. Aside from being a major boost to the team's morale, it serves as an independent validation for the work we are doing."
Maitri is a Steering Committee Member of The Family Business Network's Family Office Community. The firm strongly believes in the collective influence of investors driving companies to transition to a low-carbon economy; to this end, Maitri has signed up to initiatives including The Investor Agenda, Climate Action 100+, and the Asia Investor Group on Climate Change ("AIGCC").
For more about the WealthBriefingAsia awards for 2021, see here.