Wealth Strategies
DBS Suggests How Investors Should Position For Singapore's Inflation Headache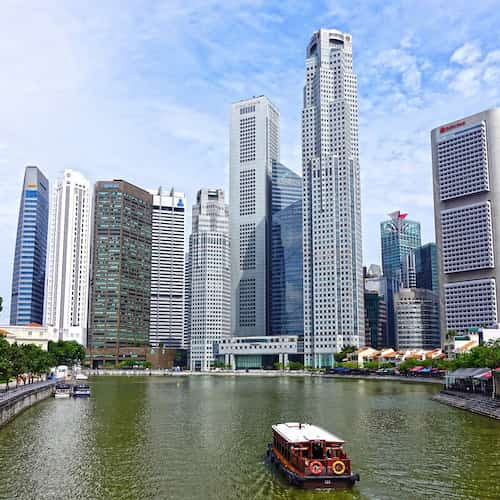 The Singapore-listed bank has polled consumers and also examined how, given concerns about inflation, people should tilt their portfolios to cope with the stresses.
Investors in Singapore should focus on sectors such as grocery staples, listed real estate funds holding retail outlets and the Asian city-state's national airliner that is due to benefit from opening up after the Covid-19 saga, according to DBS.
While not as severe as inflation in countries such as the US and UK, Singapore has suffered a noticeable rise in consumer price inflation – it rose 5.8 in April on a year ago – a rate not experienced since the middle of 2008. Such forces, coupled with Singapore emerging from pandemic controls, mean that counter-inflation plays need to be considered, DBS said in a note.
"It seems that consumers are resigned to a prolonged price uptrend but are ready to adjust their consumption and spending behaviour. While the reopening will provide a boost to Singapore retail sales figures in the months ahead, particularly from May 2022, we need to be cognisant of potential spending pattern changes ahead," the bank said.
On consumer sectors, the bank said it prefers to hold grocery staples, and expects that such firms should enjoy from demand because spending in this area remains resilient in different economic conditions. The sector has pricing power, so that costs can be passed on.
Turning to property, such as real estate investment trusts (REITs), those that are exposed to retail spending will benefit from higher turnover rents; suburban landlords have "the upper hand" in terms of essential trade exposure, DBS continued.
As far as hospitality is concerned, the bank predicts "pent-up" demand coupled with a run of corporate events – delayed by the pandemic – and the return of the Formula 1 racing in Singapore in September.
Finally, DBS said that Singapore Airlines is one of its favoured "reopening" plays because it thinks a sharp rebound in passenger volumes, elevated fares and cargo yields will boost top-line growth".
The bank polled 200 people to show that eight in 10 of them predict inflation to remain a significant issue for 12 months or more. Almost two-thirds (64 per cent) indicated that their spending habits in the next six months would change because of inflation.