Family Office
EXCLUSIVE: Europe And North America – Single Family Offices Compared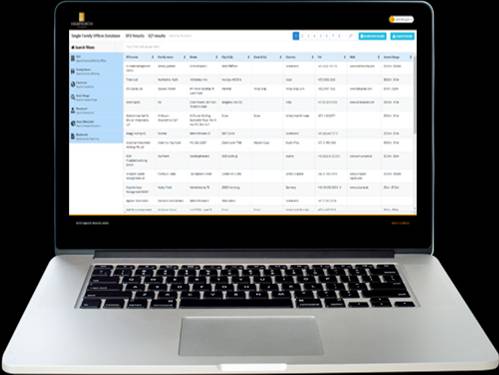 The extended coverage of single family offices by Highworth Research's database – working with WealthBriefing - throws up all kinds of useful data points for people tracking the sector.
This news service, which is the exclusive media partner to Highworth Research, an online database for single family offices, was delighted to report that Highworth is extending its coverage to the North America market. Its findings and unmatched quality of information can help industry figures compare trends in different regions.
In this article, Highworth's founder, Alastair Graham, explains what the data shows and what conclusions can be drawn from it. (To register for the Highworth database, click on this link.)
It might seem reasonable to suppose that single family offices in North America are, in aggregate, very similar to single family offices in Europe. After all, UHNW families in both continents should have similar thoughts about how to manage their financial assets to achieve growth and wealth protection over time.
Of course similarities exist but there are also quite marked differences. One way to understand the differences is to analyse the profiles of comparatively large numbers of single family offices listed on the Highworth Single Family Offices Database, both in North America and in Europe, to draw out statistics to compare the SFOs on both continents.
AUM and asset allocation differences
The following table compares SFOs on both continents, currently 575 in North America and 865 in Europe, as profiled on the database, both in terms of assets under management and asset allocation. The difference between the total numbers studied is not intended for comparison, it simply reflects a difference in SFO numbers in North America and Europe on the database, as of today. These numbers will level out in the coming months.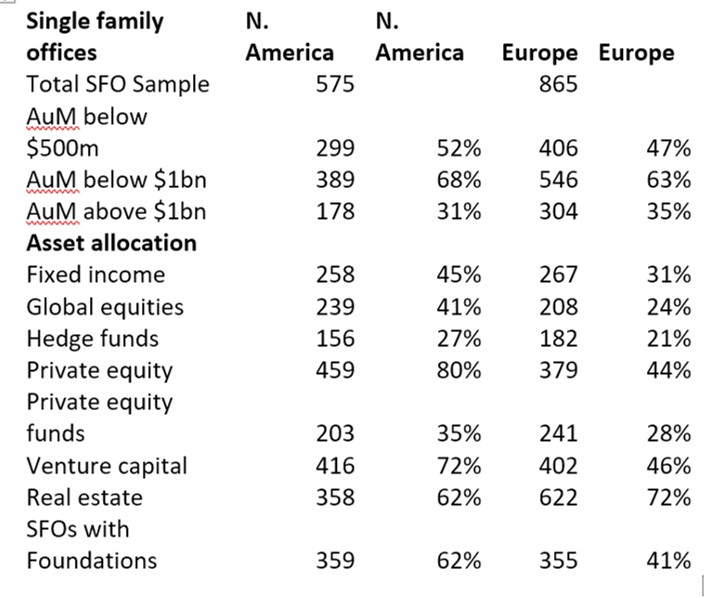 It is interesting to find that a higher proportion of SFOs in North America than in Europe have AuM below both $500 million and $1 billion, and equally interesting that a higher proportion of SFOs in Europe than in North America have AuM higher than $1 billion.
With asset allocation, the differences are more marked. Note, of course, that these numbers do not reflect percentage allocations within a portfolio but rather the percentage of SFOs allocating to that particular asset class. Much higher percentages of SFOs in North America allocate to the core asset classes and it is only in real estate investment that European SFOs are more active.
These numbers don't have the accuracy of a direct survey of SFOs. Rather, they reflect the findings of Highworth analysts objectively researching the investment practices of individual SFOs from multiple sources. The outcomes should be seen as indicative rather than precise but, even allowing for that, the differences are striking.
In the case of SFOs with connected foundations in North America compared with Europe, a comparison of the family foundation numbers confirms that the philanthropy levels in North America are markedly different from those in Europe.
Private equity and VC investment differences
Private equity and venture capital investment are even more aggressively pursued in North America than they are in Europe, but what of the business sectors in which single family offices invest in PE and VC on either side of the pond?
The following table, also sourced from the Highworth Family Offices Database, identifies the family offices which have invested in each of the 15 business sectors in North America and Europe expressed as a percentage of the total SFO numbers on the database in each region.
The data shows not only the much more active PE and VC investment activity shown by North American SFOs but also serves as a guide to fundraisers as to which business sectors have been in favour with family offices in the past two years and which have been more in the doldrums.